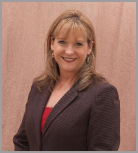 Leslie D. Schultz, M.S., ACC, LPC
Co-founder, Associate Certified Coach (ICF), Licensed Professional Counselor
Leslie has had the privilege of working with people for over 30 years. Her fundamental belief is that when you grow hope–you grow people, and when you grow people–you grow business or any other endeavor one may choose to seek. Leslie has always had a passion for teaching. At 15 years of age, she was actively teaching horseback riding lessons in her community, all the while, enjoying the achievements of those she taught. A few years later during her undergraduate studies, Leslie began a career in sales and marketing for a national company, which provided the financial support needed to earn her undergraduate degree in Child Development/Family Studies at Cal Poly–San Luis Obispo. During her pursuit of attaining her Master's Degree in Counseling, she was actively administrating a large healthcare facility, managing over 25 employees, ensuring all components of the company were profitable, positive and cohesive.
Leslie considers these accomplishments secondary to that of nurturing and loving her three sons— identical twins and a singleton 20 months thereafter. Although most of her attention was given to her sons, she still continued with her consultation services within the healthcare industry. In addition, Leslie was involved in leadership opportunities within her faith-based community; teaching and initiating programs to best meet the needs of those involved. With a strong motivation, she continued her education along with her personal development. She became a Certified Life Coach and went back to school to modernize and revitalize her Masters of Science degree. In addition, Leslie earned her certified advanced training in Motivational Interviewing (MI) through the Motivational Interviewing Network of Trainers (M.I.N.T.), a foundation organized by the founders of Motivational Interviewing– Dr. William R. Miller and Dr. Stephen Rollnick. Leslie is currently the Program Director for a non-profit agency in San Antonio, Texas– where she counsels and serves battered women and the homeless community at a state-of-the-art Transitional Campus. It is with enthusiasm and passion that Leslie brings her skill set to life, enriching the Life Coaching candidates of LCIA.
---
Growing up in a family where business was the focus, it was only natural for Gina to spend her adult life as an entrepreneur. She has owned and operated several restaurants as well as selling real estate in Southern California. She enjoys working with people and helping them find and realize their dreams. While raising her two, now grown, children, Gina enhanced her education by taking classes and working in the real estate field by selling and building new homes. It was this career that allowed her to utilize her strong interpersonal skills in helping people find their happiness in their new home. After taking a class in holistic health and massage, Gina became intrigued and that intrigue turned into a certification as a Holistic Health Practitioner. This also led her to receiving her life coaching certification. Gina believes in the complete balance of life. Life coaching is a key to finding that balance. She has also received her advanced Motivational Interviewing Certification through the Motivational Interviewing Network of Trainers (M.I.N.T.). Gina is very excited to share, learn and touch lives in every walk of life! She believes LCIA is the tool so many need to help others reach their dreams and accomplish their goals to live a fulfilling, balanced and happy life.
MEET THE FOUNDERS
was last modified:
January 15th, 2018
by