Frequently Asked Questions
---
Is Life Coaching Institute of America approved by the International Coach Federation (ICF)?
Yes we are! As of November 16, 2015, Life Coaching Institute of America's Coach Certification & Training Program is officially an ICF-Approved Training Program (ACSTH) –offering 60 approved program hours. Click here to view our Program Details on the official ICF website.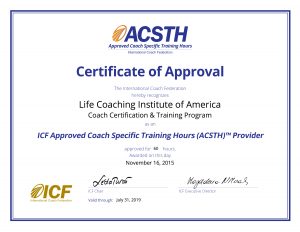 What do you mean ACSTH?
According to the ICF website, the designation "Approved Coaching Specific Training Hours (ACSTH)" program approval is intended for third party training providers who are interested in having their training program approved by the International Coach Federation (ICF). ACSTH approved programs are considered "al la carte" training programs, which may or may not offer start to finish coach training programs. A minimum of 30 student contact hours are required for ACSTH program approval.
Graduates from an ACSTH program may apply for the Associate Certified Coach (ACC) Credential or the Professional Certified Coach (PCC) Credential using the ACSTH application path if they meet the credentialing application requirements.
What is a Life Coach?
The International Coach Federation (ICF) defines Life Coaching as partnering with clients in a thought-provoking and creative process that inspires them to maximize their personal and professional potential. Coaching honors the client as the expert in his/her life and work and believes that every client is creative, resourceful, and whole…Coaches are trained to listen, to observe and to customize their approach to individual client needs. They seek to elicit solutions and strategies from the client; they believe the client is naturally creative and resourceful. The coach's job is to provide support to enhance the skills, resources, and creativity that the client already has. Life Coaching Institute of America (LCIA) ensures all graduates will understand the value of the ICF Ethics and Core Competencies upon certification. We value intensive and interactive training for our Life Coach students so they serve their clients with excellence standards of practice.
What is a Certified Professional Life Coach?
A Certified Life Coach is a professional that has a desire to partner and collaborate with individuals, groups or businesses to evaluate, strategize and assist others in reaching their goals. With intensive and hands on training, Life Coaching Institute of America (LCIA) will instruct you to be an exceptional Life Coach. LCIA Life Coaching candidates will also be educated about the benefits of Life Coaching and the specifics about our profession that sets us apart from other helping professions.
How can I benefit from becoming a Certified Professional Life Coach?
The benefit of becoming a Certified Life Coach is diverse. LCIA believes that effective Life Coaches have an instinctive aspiration and motivation to work with others in achieving their life's passions and dreams. Certified Life Coaches work collaboratively with their clients as they together discover and design strategies that will provide successful results for their clients. The belief of LCIA: "Grow Hope, Grow People–Grow People, Grow Business" (or any other endeavor the client seeks to realize).
What distinguishes LIFE COACHING INSTITUTE OF AMERICA from other Life Coach Certification Programs?
LCIA's training certification is unique in the methods and training that is provided. The founders have advanced certification in Motivational Interviewing (MI) through M.I.N.T., the training program and foundation by the creators of MI, Dr.'s Miller and Rollnick. This evidenced-based training will equip [LCIA] Life Coaching candidates with a tool set that will prepare them to effectively and successfully meet the needs and criteria of their clients, ensuring success and satisfaction in a concise methodology. In addition LCIA has created "Life Coaching in 3D" training skill set to support the desired change of the clients being served. The fluidity and flexibility of Motivational Interviewing and the 3D approach will provide the LCIA Life Coach with a successful tool set for life.
How much will it cost me to become certified through Life Coaching Institute of America?
Our Coach Certification & Training Program (certification + graduate advanced training) is very affordable (in comparison to other coach training programs) priced at $995.00 per class/certification. If you choose to register for both classes at the same time during the registration process, you will receive a 15% savings on the Graduate Advanced Training Class.
Payments can be made through Pay-Pal and they offer a credit line opportunity for those approved. If you have any questions, please don't hesitate to call us, (877) 599-5242 .
Upon being certified through your program, will I be prepared and able to start my own life coaching practice/business?
Absolutely! We will equip all candidates with superior training with skills that will ensure success for the Life Coach and more importantly their client. A win-win proposition is vital for coach and client. LCIA will afford our candidates with pertinent information about the basics of business startup. In addition, we will direct you to additional resources that will assist you in your success as a Professional Life Coach.
How long will it take to become a completely Certified Professional Life Coach?
LCIA's Certification Class equates to 16 hours of face-to-face class hours and 4 hours of prerequisite work prior to your arrival to class for a total of 20 hours. Our focus and objective is to inform, teach and equip you with practicum – hands on training. Come prepared to actively participate and experience roles as both Life Coach and Client. You will receive consistent feedback from your instructors throughout your training. LCIA believes that "book-smart" knowledge is not enough. LCIA desires that you actually learn "how to" be an effective Life Coach within the spirit of Motivational Interviewing and our own "Life Coaching in 3D".
Does Life Coaching Institute of America offer Continued Education (CE) courses?
LCIA will be offering continued education, "Round Table", for selected Life Coaches that have earned their certification through LCIA. The "Round Table" will consist of specific and relevant topics designed for specific niches within the field of Life Coaching. LCIA will invite professionals to participate and offer their expertise in the selected niche. This will be offered by invitation only. If you are interested please contact LCIA.
Do you offer discounted rates for "group" registration?
In the event you choose to register and pay for a friend and/or group in one transaction we will appreciatively offer you a 10% discount on the entire registration. If you desire to host an training event, ensuring 15 participants, you will receive your certification at no charge ($995 value)!
I am ready to be certified! How do I sign up for an upcoming Life Coach Certification class?
Registration is simple! Just visit our "Upcoming Events" page and choose your preferred city and date. You may submit payment online through pay-pal or by calling us direct (877) 599-5242 to process your registration over the phone. We make things convenient for our candidates and pledge to serve you with excellence and ease.
Where can I find your "Refund & Cancellation Policy"?
Click Here for Cancellation & Refund Policy
What is the best means of contacting Life Coaching Institute of America if I have additional questions?
LCIA welcomes your inquiries. We have a local and toll free number for our prospective as well as for our credentialed candidates. We encourage you to call us with your inquiries at (877) 599-5242. You may also contact us via email (info@LifeCoachingAmerica.com). We will always serve you with excellence and integrity. We stand firm in our philosophy "Grow Hope, Grow People".
FAQ
was last modified:
December 31st, 2016
by